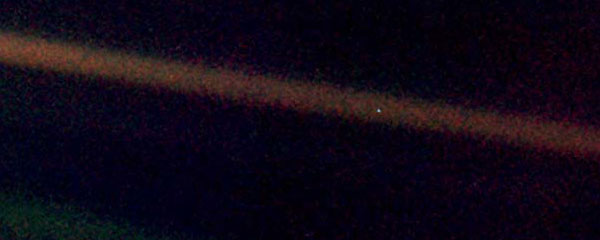 In 1990, Voyager 1 used its camera for the last time and took a panoramic photo of the solar system, including that famous photo of the Earth as a tiny, pale blue dot caught in a sunbeam. (Or, technically, a lens flare.) At the time, the probe was about six billion kilometers away, or 40 times the distance between the Earth and the sun.
Now, after covering another 12 billion kilometers, it may have become the first human-made object to leave the solar system in early September. And despite moving faster (on average) than any other object we've ever built, it took 35 years to get that far.
I was born almost four years after Voyager 1's flyby of Saturn, when its primary mission ended, so I spent my childhood assuming it was long gone already. The fact that it's still racking up milestones well into my adulthood is a pretty good example of how hard it is to comprehend the scale of the universe we live in.
Erik Owomoyela October 9, 2012 Space, StorytellingNASA, Star Trek 0 Read more >