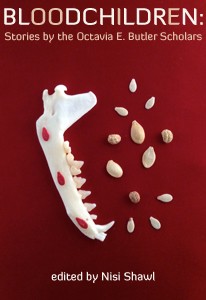 I've been using a lot of exclamation points lately. I think it's justified.
Readers of this blog may be aware that I had the fortune to attend the Clarion West Writers Workshop back in 2010. That, plus my subsequent relocation to Seattle and general career change, was possible in no small part thanks to the Octavia E. Butler Memorial Scholarship, which has sponsored the attendance of some outstanding writers of color. And also me.
Bloodchildren, the anthology I mentioned up in the title, is a fundraiser for that scholarship fund, featuring stories by all 11 of the scholarship's recipients so far (including me) and edited by Nisi Shawl. I'm told it's quite good.
It's also my first fiction publication, which is kind of exciting and very intimidating.
One of the best things about Clarion West was that it exposed me to an incredible variety of writers, with more diversity in age, race, background, interests and writing styles than I've encountered before or since. Programs like the Butler scholarship help to make that possible; it's a great way to carry on Octavia Butler's lifelong dedication to undertold stories and perspectives, and I'd like to think I'd be a fan even if I hadn't directly benefited from it.
Incidentally, Clarion West (and its sister program, Clarion in San Diego) is accepting applications for the 2013 summer workshop. Just saying.
Erik Owomoyela January 9, 2013 WritingBloodchildren, Clarion West 0 Read more >